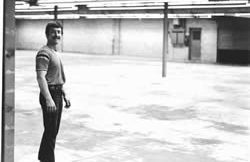 About CD Products, Inc.
CD Products, Inc. provides expertise in the selection and installation of high performance industrial protective flooring, coatings, liners and barrier systems. We are your partner in specialty protective surfaces with a commitment to integrity in our relationship with our customers and craftsmanship in our work.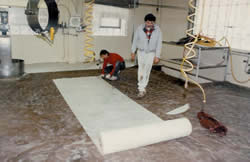 Company Values:
Customer Relations:
We believe in providing our customers significant choice in selecting the various surfaces appropriate for their individual situation, a detailed and accurate assessment with them of the costs and benefits of each choice, and the craftsman-like installation of the final surface they decide upon.
Community Relations:
We believe in being a responsible member of the community with a mandate to provide products and installations that preserve and protect the environment.
Employee Relations:
We believe in hiring and promoting on merit without regard to race, national original, sex and religion. We believe in providing a safe work environment where employees have the opportunity to grow, learn and further their skills in ways that will benefit them, the community and the company.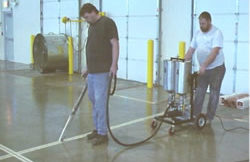 Environmental and Safety Policy:
We are acutely aware of our responsibility to the protection of the environment, workers, and customer personnel. We formulate with the safest ingredients possible appropriate for the expected use. Cleaning and preparation products are formulated to be of minimum hazard and biodegradable.
Our History: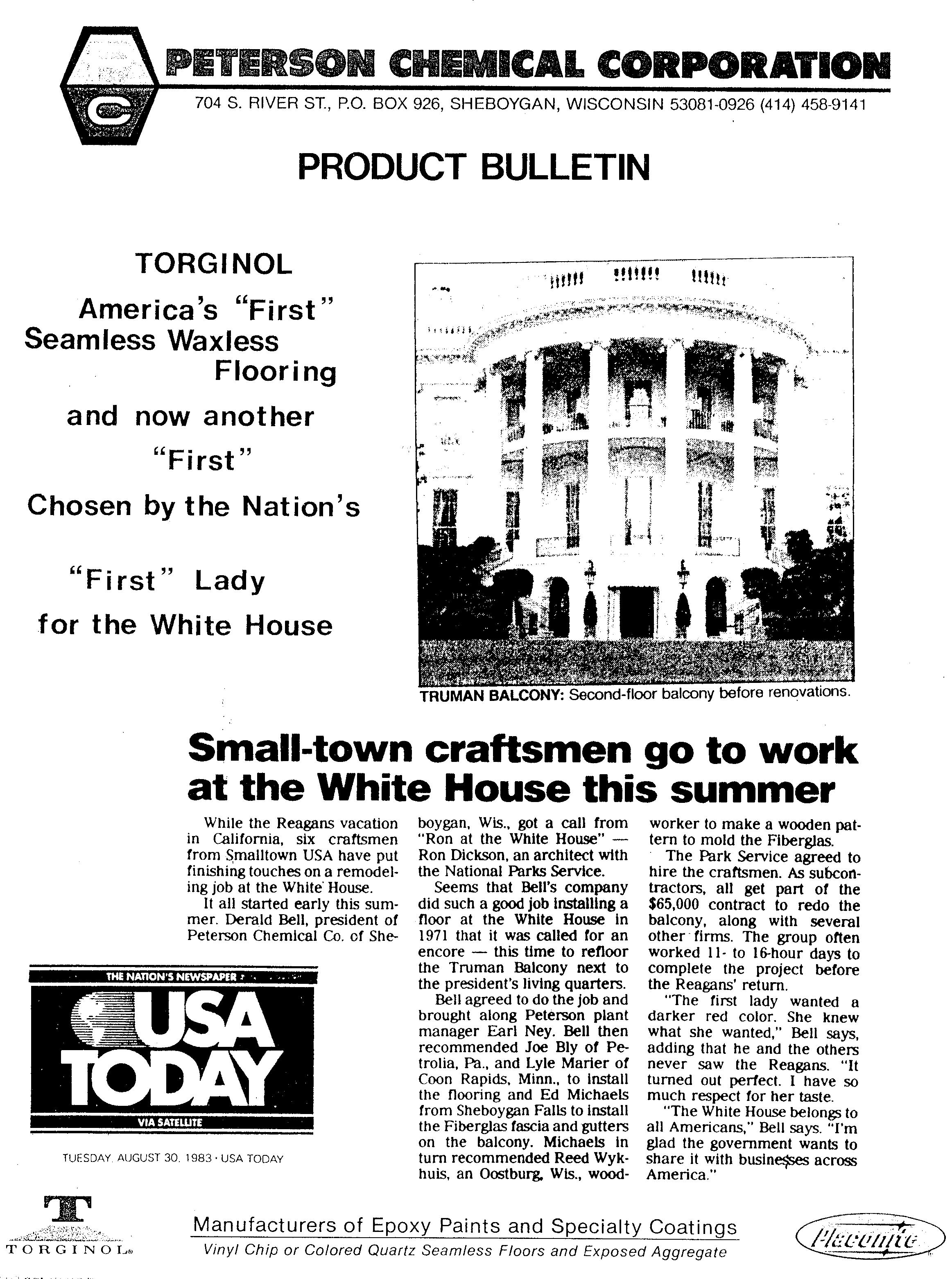 CD Products, Inc. began in 1980 by Tom Hennessy after spending 11 years in the paint, ink and coating business formulating and managing a variety of departments and plants that specialized in industrial production coatings and ink. With an intensive chemical engineering and business back ground he moved now into architectural coatings with a concentration on industrial flooring products and their proper installation.
Starting as a major dealer for a national scale epoxy producer, Tom decided he would have greater latitude in providing products if he were to make his own, with many coming as a result of a customer asking if he could solve a problem they were experiencing. This approach continues today.
In 1989 Lyle Marier joined the company from Minneapolis, bringing over 25 years of field expertise in installing epoxy, fiberglass and urethane systems. one prestigious project of his was the Truman balcony floor at the White House. Nearly simultaneously to this, they moved into their present property at 918 N. Union St. in Appleton, Wisconsin. Over the next 10 years their product line expanded significantly and customer base expanded to several states around Wisconsin and occasionally into Mexico
INMAR: in the early 2000's we were supplying materials and technology to a distributing/fulfillment company into the floor coating industry. In a short time this became a substantial business so to keep insurance costs for our installation work from escalating with these sales calculated in, we set up INMAR- INDUSTRIAL MARKETING for the installation work and kept CD Products Inc for the product sales. For a variety of reasons the distributor failed so the need for two entities ceased so we again combined them, with CD Products making most of our materials and INMAR ENTERPRISES installing them. Installation work is insured by and provided by INMAR and most of the product sales are CD Products Inc.
Since then, CD Products has grown continually and installed over 10,000,000 square feet of industrial flooring and liner systems ( 6,000, 000 sq ft in our #1300 SYSTEM alone ) for various companies throughout Wisconsin and Illinois. We promise to continue providing excellent service and innovative epoxy flooring solutions for years to come.
We currently provide floor coatings, joint filling, concrete polishing and silicate surface installation, decorative floor toppings, terrazzo grinding, heavy industrial surfaces, chemical resistant surfaces, secondary containment tank liners, ESD coatings and surfaces, and other specialties. We also provide products and instructions for their use and proper installations. In this we have taught customers to do over 1,000,000 sq ft of their own work at considerable savings to them.

SOME CUSTOMERS FOR WHOM WE HAVE PROVIDED MATERIALS AND/OR INSTALLATIONS:
ABQC
ADVANTAGE LEARNING SYSTEMS
ALBANY INTERNATIONAL
ALFERI INDUSTRIAL
ALLIANT ENERGY
ALL CAR
AMERIPRINT
AMERICAN NATIONAL CAN
ANTIGO CHEESE
APPLETON PAPERS
APPLIED LASER TECH
APACHE STAINLESS
APPLETON WWT
APPLIED IND TECH
APPLIED LASER TECH
ARPIN DAIRY
ASHLAND CHEMICAL
ASSOCIATED HYGENIC PROD.
AURRICHIO CHEESE
A TO Z MACHINE
AVOMEX MEXICO
BBA NON WOVENS
BANTA CORP
BEMIS
BREAKBUSH BROS.
BESSIONIER CHEESE
BRICKNER MOTORS
BUSH BEANS
C TECH
CALIFORNIA AMPLIFIER
CELLULAR ONE
CENTERLINE MACHINE
CHESAPEAKE CONSUMER PRODUCTS
CHICAGO SWEETENERS
CITIZEN PUBLISHING
CONSOLIDATED PAPER
CREATIVE FORMING
CITY OF KANKAKEE
CUR WOOD
DEBELIS
DECRANE AIRCRAFTSEATING
DORCO
DUMTAR
DURAFORM
ENZOPAC
FABCO
FALK RENEW
FILTER MATERIALS
FLOOR SHIELD
FOREMOST FARMS
FOX RIVER TOOL
FOX VALLEY TOOL & DIE
FOX VALLEY METAL TECH
GEORGIA-PACIFIC
GRANDE CHEESE
HC MILLER
HERITAGE CHEVROLET
HARLEY DAVIDSON
HARTLAND LABEL
MILK SPECIALTIES
MILLER DISTRIBUTORS
MILPRINT
MILLER THERMAL
MILLER ELECTRIC
MONFORT DAIRY
MULTI CIRUITS
MUSCODA PROTENE
NATURAL OVENS
HOFFMASTER
HYDRITE CHEMICAL CO
INGERSOL RAND
INX INTERNATIONAL
I BACHALL
ITW DELTAR
JACKS DISTRIBUTING
JACKS PIZZA
JAMES RIVER
KAYSUN CORP.
KIMBERLY CLARK CORP.
KLEEN TEST
KERRY INGREDIENTS
KOCOUREK CHEVROLET
KOLOSSO TOYOTA
KRUGER HARDWARE
KC AVIATION
LAKE TO LAKE
LINDQUIST MACHINE
MARATHON CHEESE
MASTERLUBE
MEDALIST
MEISTER CHEESE
MENASHA FD
MENASHA CORP.
MENASHA PKG.
MENASHA UTILITIES
METAL CRAFT
METSO
MICRO INKS
N.W. COLOR GRAPHICS
NEENAH PRINTING
NEW GLARIS CHEESE
NEW GLARIS FOODS
OGDEN PLUMBING
ORBIS
ORT LUMBER
OSHKOSH TRUCK
OUTLOOK GRAPHICS
OUTLOOK LABEL
PACE INDUSTRIES
PARK CHEESE
PECHINEY PLASTIC
PENDERGAST PRINTING
PERINI AMERICA, INC.
PETERBUILT-MADISON
PHILLIPS PLASTICS
PISANI GRAPHICS
PLANK CO
PLEXUS
PIERCE MFG
PLATCO
POLYTEC
PROLABEL
PROFESSIONAL PLATING
PROMOTIONAL DESIGNS
PROVIMI VEAL
Q COMP TECH
R B ROYAL
R.J. SERVICE
RADYNE
RAPIDPAK
RAYOVAC
REILLY MOTORS
REINDERS
REINDL PRINTING
ROTO-GRAPHIC PRINTING
S&S CYCLE
SCHOOL SPECIALTIES
SCHREIBER FOODS
SCHULLSBURG CREAMERY
SCHNEIDER CHEESE
SCHUETTE METALS
SEARS
SILGAN CONTAINER
SONOCO
SORENTO LACTALIS
SPEED QUEEN
SPARTEC
SPRING GREEN TECHNOLOGIES
STARK AUTOMOTIVE
STONE CONTAINER
STOR ENZO
THEISEN SUPPLY
TRIANGLE TOOL
TRI-COUNTY DIST
TRU VUE
TWO RIVERS COAST GUARD
V&H ASSEMBLY
VALLEY CAST
VALLEY PLUMBING
VALLEY TISSUE PKG
VALMET
VAN WATERS AND ROGERS
VICTORIA'S
VISION LABEL
VITA PLUS
WARTSALLA PUBLISHING
WAUSAU SUPPLY
WAVERLY SANITARY DISTR
WERNER ELECTRIC
WEST SIDE GARAGE
WHOLT CHEESE
WINNEBAGO COLOR PRESS
WINNEBAGO COUNTY
WISCONSIN HOMES
WIT FORD
WOLF RIVER LUMBER
ZF